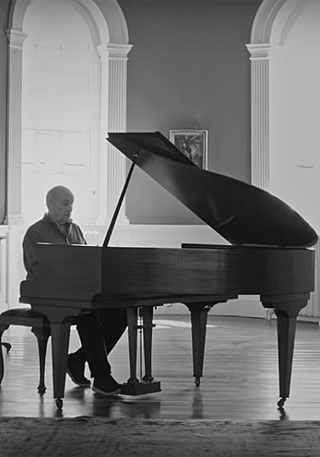 Ian started singing in his local church choir at the age of 8, encouraged by his father who himself was a singer, and had a group called '3 Boys and a Guitar' during the Second World War performing to all the Allied Forces in Burma, India and Ceylon (Sri Lanka).
Ian appeared in operas, musicals and plays at his secondary school, Brune Park, in Gosport, Hampshire, and produced his own shows before going on to drama school.
He started writing and performing his own songs soon after, and in the years that followed he began to get involved in vocal session work and playing in bands.
Ian was a backing vocalist and rhythm guitar player in The Wes McGhee Band for many years recording albums and performing all over the U.K, Europe and in the U.S, where they opened for the likes of Jerry Jeff Walker, Doug Sahm, Alvin Crow, Butch Hancock and Jimmy Gilmore.
He has sung on the original cast recordings of many West End shows, working with Stephen Sondheim, Pete Townshend, Don Black, George Fenton, Richard Maltby and David Shire, and George Stiles and Anthony Drewe among others.
In 2008 Ian recorded and released his own album 'two kinds of fool' as 'Barty' to great acclaim from his family and friends.
Women's Aid and 'This Time it's Forever':
The CORONATION STREET storyline of Geoff and his marriage to Yasmeen, played by Shelley King, has developed into a vicious and shocking tale of coercive control, a manipulative and devastating form of domestic abuse. Women's Aid were heavily involved, both with the writing of the storyline, and with providing Ian and Shelley with invaluable research material. As a consequence, their story has had a great deal of attention, with some of the highest ever viewing figures for Corrie in quite some time. Both Ian and Shelley have recently been nominated for multiple awards, and social media has been buzzing with Geoff's nastiness and cruelty. One of the most violent episodes of their recent story was broadcast during lockdown, as cases of domestic abuse all over the country soared in number, and the number of women killed by their partners doubled.
Ian has been incredibly moved by the stories he has heard and the people he has met while researching the storyline and working to bring Geoff and Yasmeen's relationship to life on screen, and he is now keen to use his profile to help this underfunded cause. Read More.